Ferrari Not a Circus Act During COTA Rain Delay Activities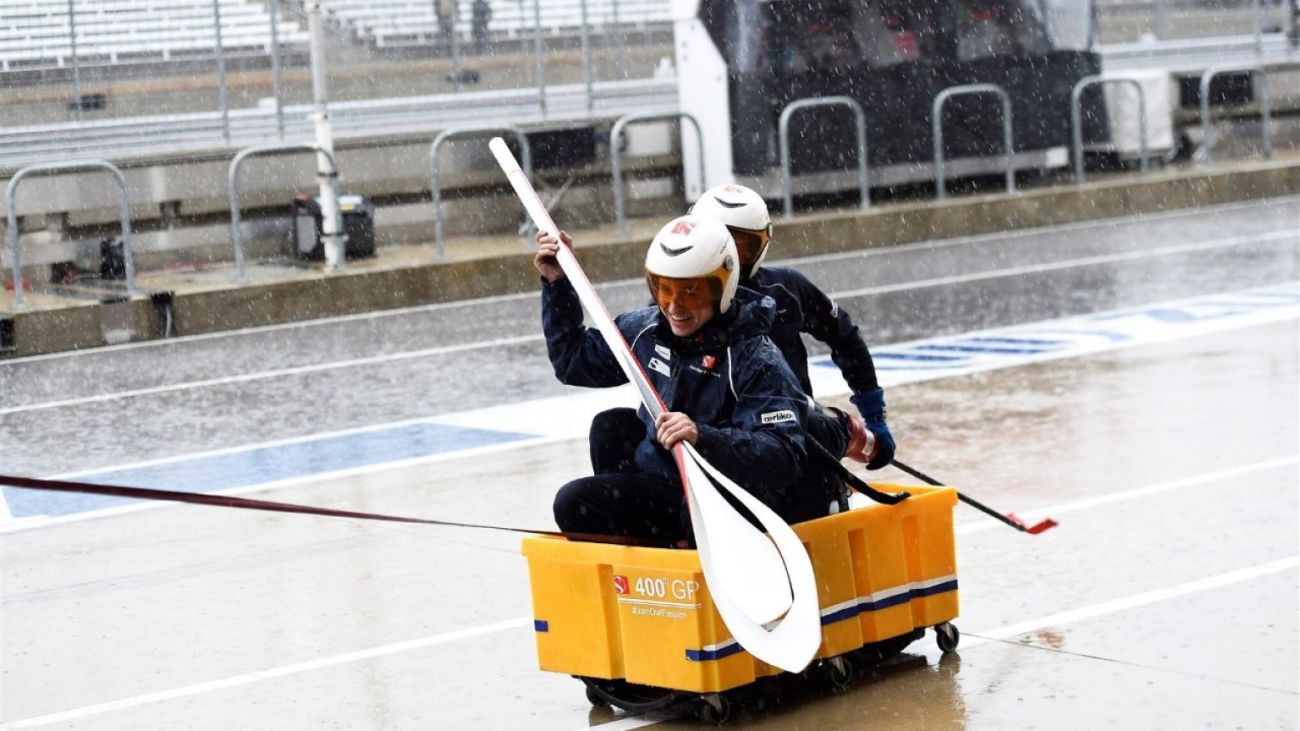 Ferrari Not a Circus Act in Regards to Pit Road Play During USGP Rain Delay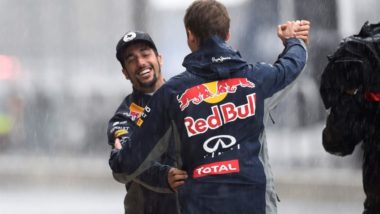 Ferrari not a circus act this is Formula 1 says Ferrari Boss. Ferrari recently released statements in regards to the COTA pit lane play that teams took part in during the rain delay of the USGP. Cars could not enter the racing surface as Hurricane Patricia brought storms inland and halted the show.
Teams took to creating their own show via custom rowing boats, rain dancing and other forms of horseplay. The spontaneous form of entertainment was to entertain both themselves and the crowd who opted to stay and wait out the rain delay as rain filled their shoes. It was a nice spin to see the high tension sports of F1 suddenly become a free-spirit atmosphere. A new side of the real pit lane personalities that we don't usually see.
Click here to view other rain delay photos
However, Ferrari boss Maurizio Arrivabene is upset that others are having fun and is here to put them all in timeout. He has critiqued the other F1 teams saying this was not good for fans.
However, myself and the freezing but cheering Circuit of the Americas fans would very much disagree. That quote to me sounds like Ferrari might just being taking themselves a bit too serious. They come across, as usual, as the overly strict parent with a stick up their ass about everything.
Click here to read about the time Ferrari stopped DJ Deadmau5 and his Nyan Cat Ferrari
The following quotes are every bit of why I hate Ferrari, with a passion equal to those who love them. These pompous quotes and others like it are regularly spoken from the mouths of both Scuderia Ferrari and the auto maker themselves. It makes my blood pressure rise when I see Scuderia Ferrari step on the toes of the other teams and ask why are they having fun?
Here's what Scuderia Ferrari boss Maurizio Arrivabene had to say about rain activities at the USGP.
We are a Formula 1 team, not the Cirque du Soleil," said Arrivabene. "It's fine if somebody entertains the public, it's absolutely fine.

But we signed autographs for all the people that were waiting, and we took some of the children in wheelchairs into our pit box.

We prefer to do these things, rather than simulating fishing and doing funny things for the TV. That is not really doing something for the fans.

– Maurizio Arrivabene
Well Mr. Maurizio as their asses are freezing on the soaked metal grandstands I'm sure it took a lot to convert their pain to laugher and cheers. Fans braved the lighting to watch the show. I sat comfortably from my living room and I'm here to tell you it was the most exciting part of the rain broadcast. I would like to say thank you to Sauber, Red Bull and the majority of the teams for entertaining me and millions of fans and fuck you to Ferrari who now shames people for having fun. I guess they are just upset that for once the cameras were not on their pit stalls and had to share the attention with the peasant teams.
Kimi Raikkonen says Ferrari is Not A Circus
Even Kimi Raikkonen hopped in on the pompous dialog.  When asked why he did not take part in any of the pit-lane antics, Raikkonen said:
You want an honest answer? I think this is F1 and not the circus.

The people are obviously not happy when we're not running but we cannot make them happy with whatever we do apart from running [on track] and we couldn't give it because of the weather.

Sometimes, it's no wonder when people start thinking about what F1 is, when these kind of things happen.

This was everyone's choice but, for me, we are here racing and doing our work.

– Kimi Raikkonen
This comes from the same man who got drunk and fell off a boat at the Monaco Grand Prix several years ago. I love how Raikkonen speaks his mind, it's my favorite part about him, there's no filter. However, in this case his thoughts are just wrong.
This is exactly why I hate Ferrari as if I needed a new reason. I've decided to spend half my morning bashing them for putting all the other teams in timeout. I hope it goes viral and we all get to laugh at Ferrari together.
Written By: Shane Walters
Photos: F1