Bed In Floor Contemporary Bedroom Project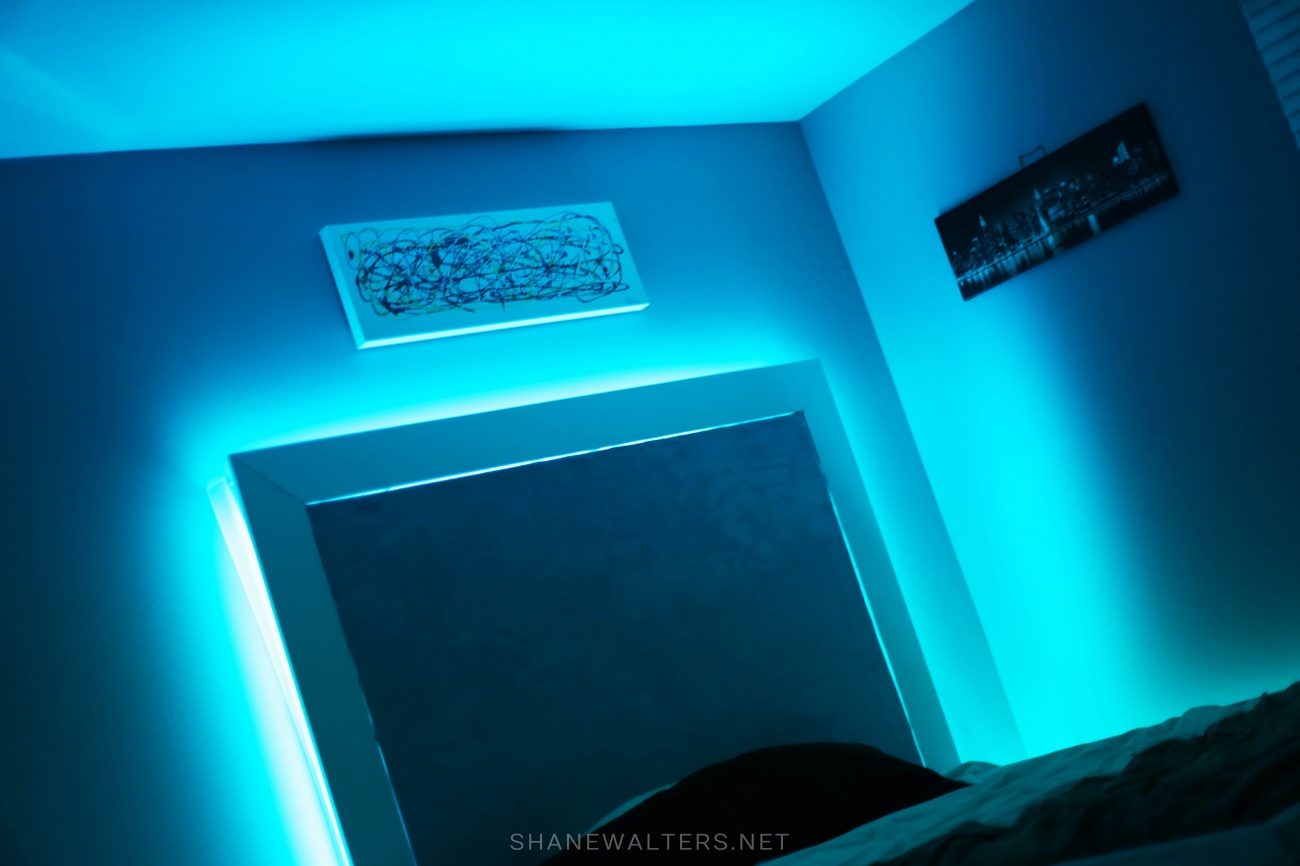 Bed In Floor Contemporary Bedroom Project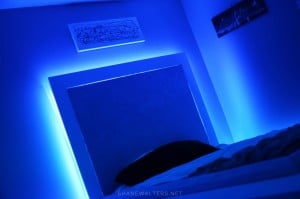 This is my bed in floor contemporary bedroom project. It stole three months of my life but the overall result I feel is amazing. I couldn't be much happier with the way it turned out.
You can see the photos and videos of the extremely modern minimalist bedroom below. I also attached some before and after photos.
Before this project even started I needed to change the floor. Carpet is a no go for me in every sense of the phrase. I torn it up. I then rented a concrete grinder and went to smoothing the concrete floor which was rough, un finished and filled with carpet glue.
Once I was done grinding the floor it was time for stain. I didn't want one solid concrete color. I wanted a two tone concrete stain. So I bought two colors, putting down the lighter grey first, several layers, over several days. Then, I came back with a slightly darker grey concrete stain. I painted slight streaks all over the room.
Finally, I sealed the entire floor with a high gloss. The idea was that when it dry's it would still look a bit wet, it did just that. It helps reflect the lights a bit in the darker room.
The walls were then painted a matte neutral grey. I choose a flat color here so the things I hang on the wall stand out a bit more. I needed mostly neutral colors because the lights will change colors. So, even the pictures on the wall are greyscale photos. The single painting I have in the room features most colors, that way it would match with any color I set the lights to.
I wanted to build my bed into the floor. I have concrete floors, so unless I get out the jackhammers it wasn't possible. My solution was to raise half of the floor, wall to wall on just one side.
I left 4 inches between the wall and the bed. This was to put in the cove lighting on the floor. Hiding the edges, this idea actually came from looking at an infinity pool. Usually, cove lighting is used on the ceiling. I wanted it to be on the floor and around the headboard of the modern bed.
The lighting is 3 stands of RBGW LED light strips from St Louis based SuperBrightLEDS. All 3 sections can be controlled from a single remote. These lights can dance and change colors, similar to what you would see in a nightclub. The strips could be attached to music and change with the beat, though I don't intend to do that. Those fast changing nightclub lights do bad things for anxiety. I can set the fading colors to whatever speed necessary, it could take 15 seconds or a tenth of a second to fade in and out of color.
However, I tend to just pick a specific LED light color and leave it there without a fading change. The light strips also have a set of white bulbs next to each colored bulb, this means I can set it to any color I choose then add white to it as well, making it a bit brighter.  I'll change it to white without a color if I really need light to read a book or something of that nature.
Half of the raised floor features the built in bed. The bed has a raised edge, those are 4×4's with the sharp edge cut on the outside so I don't hurt myself getting to bed. The cut out section for the bed and nightstands is lined with sky blue microfiber. I used microfiber only because it's easy to clean.
Half of the raised floor features the built in bed. The cut out section for the bed and nightstands is lined with sky blue microfiber. I only used microfiber only because it's easy to clean.
The other half isn't wasted space, it's used for storage. I wanted all clutter of any kind hidden from plain sight. I don't need things on display that don't need to be. I wanted anything most people store on shelves behind a closed cabinet door.
The bed was then painted matte white. The idea here was to have darker walls and a dark floor with a bright white bed. This was to help the bed illuminate with the color of the led lights while everything else remained a bit darker.
I actually went into this entire project with extreme minimalism in mind. I hate clutter, anywhere. I wanted to walk in my room and see no type of clutter whatsoever. Most people have dressers and shelves, these flat surfaces become clutter magnets. It sure helped that I already have very little to store.
I work from home so my home, bedroom included doubles as an office. I work from whatever room I feel like working from that day. They all need to be work ready.
To me clutter fills your brain when unnecessary distractions, wether you are aware of it or not. When I walk into a bedroom like I built it allows me to think clearer. It allows me to create without mental distractions.
Even the sky blue microfiber boxes to the left and right of the bed where designed to hide clutter. Those are basically my night stands. I built them recessed into the bed to hide the objects placed on them. It's only recessed about 2 inches but that's enough to hide books and remotes from the eyes as you walk in the room. While the objects are there they don't attract your attention.
I don't want to say how much this total project costed me, it was too much. Far more than I expected. However, if I had a contractor build and design the bed in floor contemporary bedroom project it would be at least 4 times higher in costs. Besides, where's the fun in that anyway. I had a blast building this myself, despite the headaches as shown below.
Bed In Floor Contemporary Bedroom Photos ( Completed Project )
Bed In Floor Contemporary Bedroom Photos ( Work In Progress )
Traditional Bedroom Photos ( Before The Project Started )
Bed In Floor Contemporary Bedroom Video
Lighting: SuperBrightLEDs