BLOG: Worlds Collide As Formula One Returns To America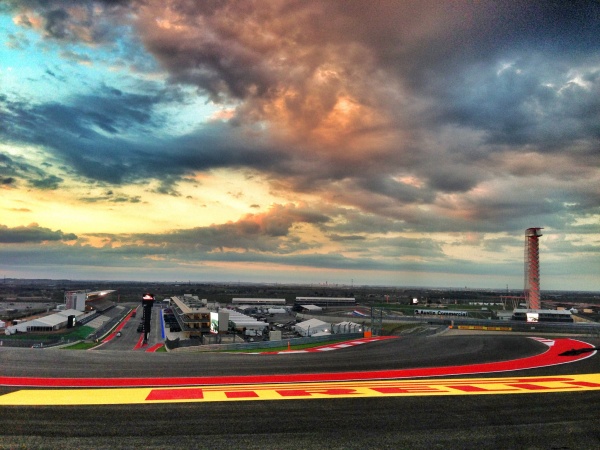 It's been five long years since the premier form of motorsports has crossed the pond into the United States. Primarily dominated by oval racing fans, America's corn fields and high rise buildings alike are filled coast to coast with rabid fans who follow the NASCAR circuit. However, this form of oval racing fails to reach the radar of anyone on the other side of the ocean. Wherever the destination, Formula One brings the world with it.
During the 2008 season, F1 had 600 million sets of eyes glued on the television tube (per race), nearly double the U.S. population. In comparison, this makes the NASCAR viewing audience appear a small sewing circle at just 5 million. Furthermore, the cumulative F1 television audience was calculated to be 54 billion during the 2001 season.
F1 is the undisputed polar opposite of what the general American expects to see when they enter a racing circuit. Bumpers are replaced by wings, roofs replaced by helmets. Full blown rocket ships on wheels will enter the Circuit Of The Americas in Austin, Texas this weekend making the oversized NASCAR stock cars look like small ill-handling trucks. While in 2012 their isn't much of anything stock on a stock car, F1 is the future of everything automotive. For years, these formula teams have laid new technology groundwork while simultaneously paving it for auto manufactures worldwide.
The purest form of racing in the United States isn't done on pavement. Here our tracks are carved in dirt then covered in late models or sprint cars who slide sideways and turn right to go left. While we have an equally strong base of asphalt tracks and fans, the same types of cars will be found on both with a few minor changes.
Europe on the other hand grows their motorsports fan base through the use of karts, similar in size but much different than your Target shopping carts. These are really really fast karts, topping 125 miles per hour on a regular basis with built in, yet unnatural, seat warmers as these buttox holders scrape along the racing circuit. Karting is the only form of racing machines capable of reaching g forces equal to F1 cars as they turn on dimes simultaneously hopping over the curbs, chasing the hundredth of a second advantage.
These two very different worlds of motorsport will again collide this weekend for the first time in five years. Tomorrow, practice 1, cars will be unleashed on the shiny new circuit for the first time. The first purpose built Formula One track ever constructed in the United States. Built around a state-of-the-art 3.4-mile circuit track with capacity for 120,000 fans and an elevation change of 133 feet, the facility is designed for any and all classes of racing – from motor power, to human power.
Previously, the United States Grand Prix took place at the Indianapolis Motor Speedway, that was 2007. Two years prior arguably the most controversial sighting in Formula One history, as over half the sporting teams refused to compete. These teams were obligated to use a set of tires that were faulty for the IMS banking and sure to cause disaster. Only a handful of cars using a different brand of tires crossed through turn 1. Following the event, tensions ran extraordinarily high between track owner Tony George and F1 boss Bernie Ecclestone who was later quoted saying it did not matter to him whether or not there was a Grand Prix in America.
Most importantly, as an American I'm thrilled that for this weekend only it's not required I stay up until 4AM just to watch a practice session.
Written By: Shane Walters
PHOTOS