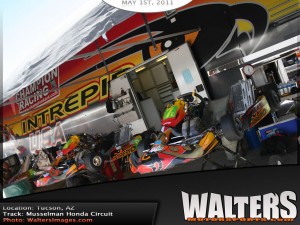 The final day of the Superkarts! USA Honda Racing/HPD SpringNationals completed a near perfect start to the 2011 SKUSA Pro Tour. The Musselman Honda Circuit in Tucson, Arizona and the nearly 170 drivers on hand provided an exciting show from the morning hours in qualifying to the last corner of the final main event of the day. The weather was the best it had been all weekend with comfortable temperatures and a slight wind. Leaving the weekend, eight drivers have put themselves in the best position at claiming the Pro Tour championship, including a couple double winners on the weekend.
The front of the field looked much different in S2 qualifying on Sunday compared to Saturday. Evan Walters (Intrepid) held the provisional pole while a number of karts sat in the pit lane. Logan Jones (GP) took the spot from him with about six minutes to go. Jake French (Birel) was the driver to watch as he moved up to P2 on his out lap, then found some clear track to take the top position on the time chart. His 48.599-lap was best with Jones dropping to second. Patrick Cushenberry (CRG) ended up third in the order with Kyle Hathcox (CRG) and Arie Luyendyk Jr. (Zanardi) capping off the fast-five.
Holeshot for heat one went to Cushenberry from P3 on the grid but French came right back as they exited turn one to take back the point. Hathcox slid in behind them to form a three kart breakaway with Josh Lane (DR Kart) in fourth and Jones in fifth. Completing lap two, Hathcox drafted by Cushenberry for the second spot, allowing French to put three kart lengths on the two. With Hathcox into second, he cut right into the gap and closed right in on French's bumper. Lap four, Hathcox drove past French in the same spot he advanced before and put himself at the point for the first time on the day. Completing lap seven, Cushenberry drafted around French for the second spot as Hathcox continued to stretch out his lead. At the checkered, Hathcox took the win by six-tenths of a second over Cushenberry and French. Daniel Langon (GP) was able to run down Lane and work by for fourth in the final lap.