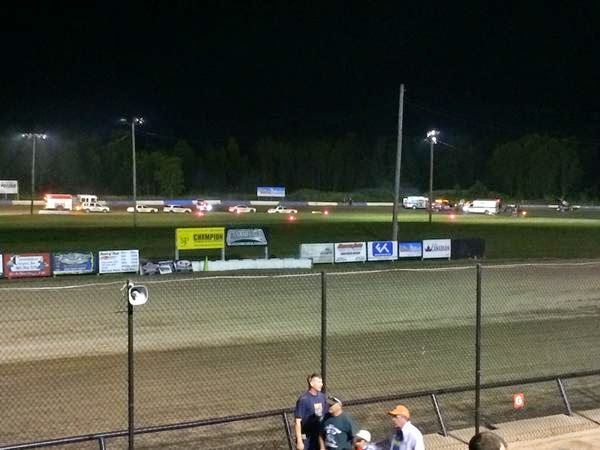 NASCAR Driver Tony Stewart Sprint Car Crash Kills Kevin Ward Jr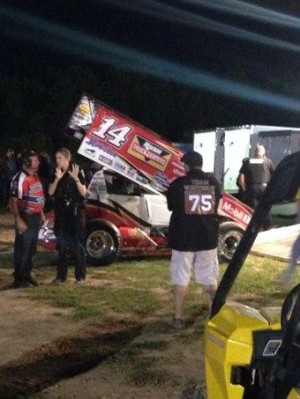 Tony Stewart sprint car crash has taken a turn for the worst as Kevin Ward Jr has been pronounced dead. It happened at Canandaigua Motorsports Park and details are somewhat limited. Here's what we know.
Scroll below to watch the Tony Stewart Sprint Car Crash video.
The Ontario County Sheriff's Department would not identify the driver but said he was pronounced dead on arrival Saturday night at a hospital in Canandaigua.
Tony Stewart and 20 year old sprint car driver Kevin Ward Jr tangled in what looks like a slide job gone wrong. Kevin Ward then ran out of track, slid into the wall, cut a tire and nearly flipped.
Ward then exited his mangled car, helmet still on to show his displeasure with Tony Stewart. Kevin Ward Jr pointed as Stewart drove by under caution laps. However, it was the first caution lap. That's important because the cars were still falling into line and slowing down. Yes, they were going slower than race pace but the sprint car field in it's entirety was not at caution speed just yet.
Tony Stewart hit the gas as the driver approached. Fish tailing his sprint car into the standing driver. However, after watching the video below multiple times, in ultra slow motion, I really don't think it's that simple. The details of what happened next is very much debatable and it will be a discussion for years to come.
I think Tony Stewart hit the gas to avoid Kevin Ward Jr it was not to scare or provoke him as many have said. When the non-racing fans jump on board the conversation, this will become the frustrating part to explain. Here's a short note directed directly at those people, your Mustang street car drives nothing like any race car, especially a dirt sprint car. In sprint car racing, if you hit the gas it helps steer the car to the left.
If you watch the video, very close, Kevin Ward Jr was walking far down the track, in an attempt to grab full attention of NASCAR Sprint Cup champion Tony Stewart. Ward walked so far down the track it looks like the blue car, just in front of stewart (name unknown) also almost hit Ward. It appeared to me like the blue car even made a slight movement around Ward as he went past. Ward then took a few more steps, walking further down the track for the next car in line, Tony Stewart.
Kevin Ward Jr was also wearing an all black racing suit on a dimly lit dirt track. Kevin Ward Jr took a jump in front of Stewart just before Stewart got there, almost like he was trying to make him stop. Ward tried to jump back very quickly but there wasn't enough time. I think Stewart saw him at the last second and did his best to avoid him.
Kevin Ward Jr left it to the reaction time of Tony Stewart to avoid him. Anyone who tells you that Tony Stewart hit Kevin Ward Jr on purpose needs a serious talking to. No racing driver on this planet would ever hit another standing driver purposely.
Either way, Kevin Ward Jr went flying and twirling through the air in a very upsetting sight. You can see the Tony Stewart sprint car crash video below. Warning the video is very graphic.
Kevin Ward Jr lay motionless on the track. Emergency was dispatched immediately and the driver was taken to the hospital. He was then pronounced dead on arrival at the hospital at 11:15 PM.
It's a terrible tragic incident that could have easily been avoided. The entire motorsports community send thoughts and prayers with the Ward family.
Fans at Canandaigua Motorsports Park were cleared from the speedway grandstands. The police investigation of the Tony Stewart sprint car crash with Kevin Ward Jr went underway immediately.
Sheriff Philip Povero says the 42-year-old Stewart was "fully cooperative" as he was questioned and released. Povero said multiple times the investigation is not criminal. In the press conference he also mentioned that this had happened at that very speedway before.
Roughly three hours after the accident in New York, Donny Schatz, a sprint car driver for Tony Stewart Racing, won the prestigious Knoxville Nationals in Iowa for an eighth time. Stewart had spent much of the earlier part of the week trackside in Iowa watching his drivers compete.
"I was just told there was an incident involving Tony. I don't know to what extent or what's happening," Schatz said.
Today, Tony Stewart is scheduled to race in Watkins Glen, NY. Tony Stewart Racing announced that Tony Stewart will race today. However, he is scheduled to start 13th, the same number on Kevin Wade Jr's sprint car.
Tony Stewart has announced he will address the media at some point before today's NASCAR event at Watkins Glen International.
UPDATE: 3 hours later Tony Stewart said he would sit out this week at Watkins Glen.
Click here for additional updates on the Tony Stewart sprint car crash with Kevin Ward Jr. The link contains statements from both NASCAR as well as Tony Stewart.
Author: Shane Walters
Tony Stewart Sprint Car Crash Kills Driver Kevin Ward Jr Video
Tony Stewart Sprint Car Crash Kills Driver ( Photos )
Video: YouTube